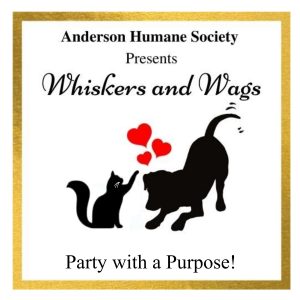 We are thrilled to announce an exciting new event in support of Anderson Humane Society: Whiskers and Wags Party with a Purpose. Featuring a silent auction with exquisite art and gifts from local artists and businesses, delicious hors d'oeuvres from fabulous DaRae & Friends, awesome entertainment by Mentalist Josh Fletcher, photo ops (and maybe some surprises!), this event promises a truly wow experience! Whiskers and Wags will be held from 6:00-8:30 pm on Saturday, April 16, 2022, at the beautiful Barn at McCall Springs, 2160 Harrodsburg Road, Lawrenceburg, KY.
This event is key to helping us meet our annual fundraising goal, ensuring that Anderson Humane Society can continue its community outreach, animal welfare, and education programs while maintaining the very best adoption center experience for the animals in our care.
Thank you for your support for Whiskers and Wags. Together, we can make this the most successful fundraising event in AHS' history! We can't wait to see you there!